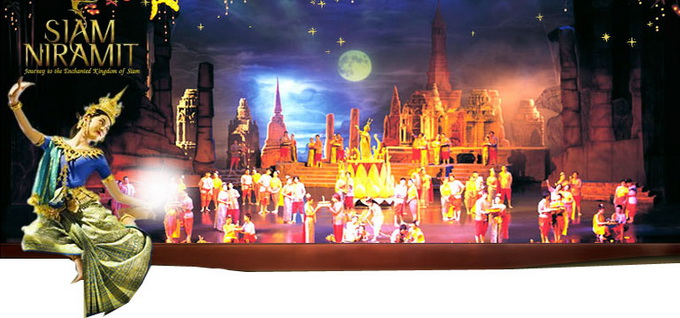 Description :
Travel back in time to the early history and culture of the Kingdom of Siam. You will be amazed and captivated by this two-hour long journey, which delves into over 700 years of Thai history in three stage acts, including the ancient civilisations, spiritual discovery and Thai festivals. Before the show, stroll though the replica villages of the four regions and try your hand at making Thai desserts, crafts or simply enjoy the lovely atmosphere.
The Siam Niramit (Bangkok) show starts daily at 20.00hrs. Show duration is 80 minutes, without intermission. Gates open at 17.30hrs. for access to restaurant, other attractions and facilities. A free shuttle service runs from Exit 1 of Thailand Cultural Centre MRT Station. New Tour Info Point
Description




(Ticket Only) 

Walk in Rate THB

Net Special Price THB

Adult
Child

Adult

Child

Show Only Silver Seat
1,500
1,500

1,200

1,200

Show Silver Seat and

Buffet

Dinner
1,900
1,700

1,450

1,450

Show Only Gold Seat
2,000
2,000

1,500

1,500

Show Only Gold Seat and

Buffet

Dinner
2,400
2,350

1,750

1,750

Show Only Platinum Seat
2,500
2,500

1,800

1,800

Show Only Platinum Seat and

Buffet

Dinner
2,900
2,750

2,050

2,050
-All the above rates for children apply to those either between the age of 4-12 year and/or less than 140 cm. in heights (proved may be required)
-Children under 4 of age or less then 90 cm. in height see the show free of charge , provided that they share a seat with a parent.
-Showtime is at 8.00 pm. daily. The additional show will be announced in advance.
-Dinner is served from 5.30 pm. to 8.00 pm. daily.